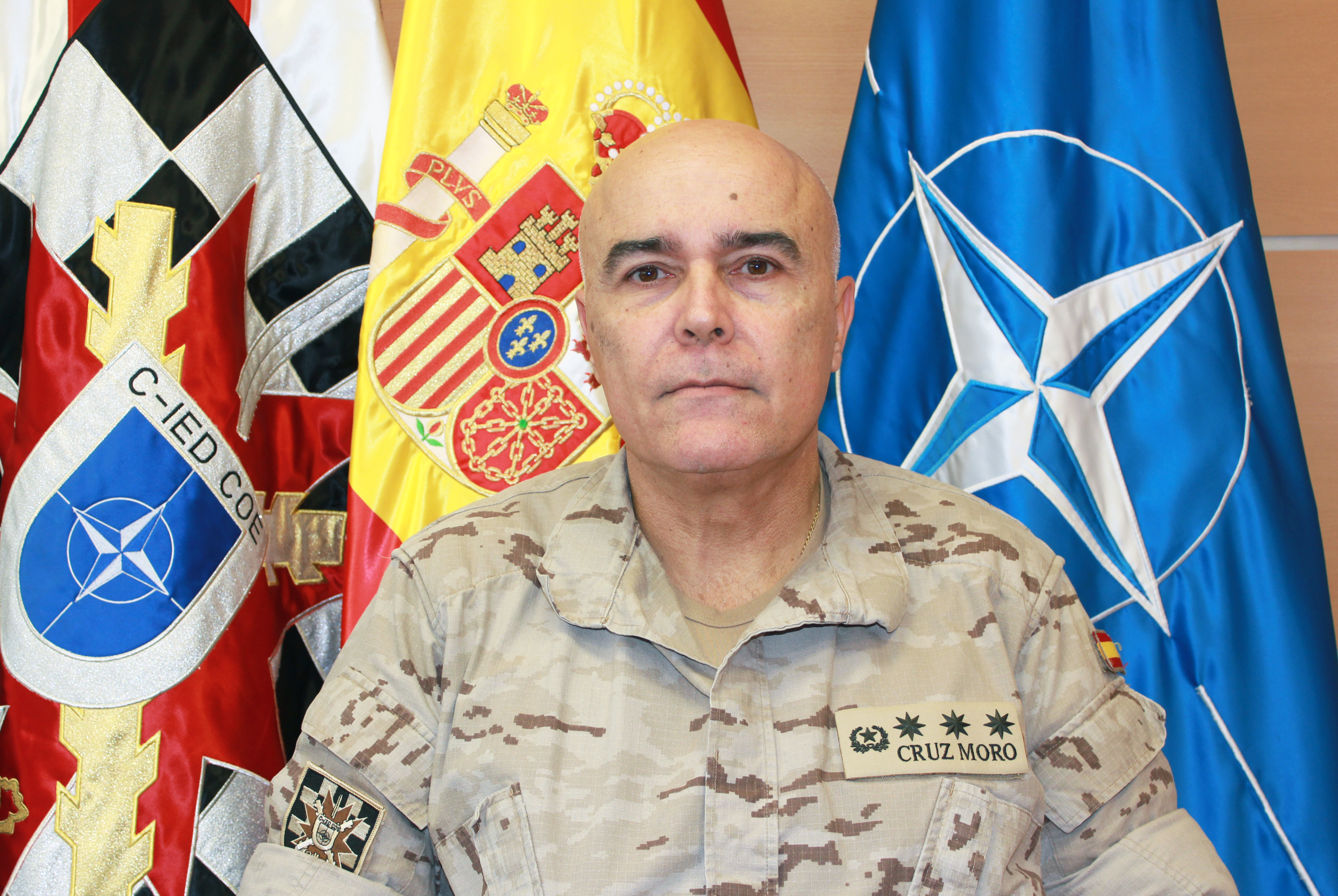 C-IED CoE Director
Colonel José Antonio Cruz Moro, ESP ARMY (Infantry), born October the 14th, 1963 in Las Palmas de Gran Canaria (Canary Islands), is the current Director of the C-IED CoE since July the 17th, 2018.
COL Cruz Moro received his commission as an Infantry Officer from the Academia General Militar, Zaragoza. His military education includes Mechanized and Armored Officer Course, Combat Supplies Officer Course, Military Physical Education Teacher Officer Course, Hand to Hand Combat Course, Inter-Services Operations Course, Peace Keeping Missions Observer Course, General Staff Officer Course, National Administration Laws Course, Operational Planning Process Course, NATO European Security Cooperation Course and European Security Policy Course.
His civilian education includes the Expert Title of Investigation Methodology and Prospective Analysis from Granada University, the Rule of Law in Armed Conflict from International Red Cross, the Civilian Defense and Emergency Planning from Swedish National Defense School.
His Army career began at Mech. Regiment "España 18", Cartagena, as a Mech. Platoon Leader. He then moved to Fuerteventura, Canary Islands, where he served as Light Infantry Company Team Commander in Spanish Legion, (Tercio D. Juan de Austria, 3º de la Legión) .After he was appointed in Light Infantry Regiment Canarias 50, (Las Palmas) where COL Cruz Moro was Company Team Commander and S2/S3 Cell Chief in Ceriñola I/50 Batalion. After he was appointed as Military Physical Education Teacher in Spanish Military Sports School where he was responsible for Military Gym Education and Chief and Teacher of Hand to Hand Combat Department. After he attended to the General Staff Course he was appointed in Spanish Army Personnel Management Directorate. Later he was appointed as Teacher in the Spanish National Defense Studies College as Teacher of Organization and Leadership Department and Joint and Combined Planning. After, in OCT 2010 he was assigned as Chief of AtN Branch in C-IED COE, where he served for more than 3 years.
After his appointment in C-IED COE, he was again in a second tour as Teacher in the Spanish National Defense Studies College as Teacher of Operations Department and Operational Planning and Joint and Combined Planning.
In December 2015 he was appointed as Mech. Regiment Commander "La Reina" nº-2, in Córdoba where he finished his official commanding period in December 2017.
In relationship with C-IED, besides his commanding role in AtN Branch and his current C-IED CoE Director appointment, his expertise training includes:
ATAC, Advanced Tactical Awareness Course,(Tactical Analysis). Bydgozsz, (POL)
SOAC, Staff Officer Awareness Course, Bydgozsz (POL)
TNAC ,Threat Networks Analysis Course, (NATO SF HQ, Chievres, BEL)
HNAT ,Human Networks Analysis and Targeting, (He was also responsible designer of the curricula of this HNAT Course in coordination with NATO IMS, ACO/INTEL Branch and ACT, as AtN Branch Chief in C-IED COE)
From February 2018 to August 2018 was appointed as NTCB-I C-IED Senior Advisor. (NATO Training and Capacity Building in Iraq).
His awards include three First Class Army White Ribbon medals and one First Class Navy White Ribbon medal and First, Second and Third San Hermenegildo awards. He has the European Monitoring Mission Medal due to his appointment as Spanish National Observers Contingent Commander for Balcans and NATO Campaign Medal (SFOR) due to his appointment as responsible for Security Projects for DPREs in Bosnia&Herzegovina. He has also two official Commanding Recognitions of First Level Army Generals.
COL Cruz Moro is married to Marta A. Morales and they have two daughters, Marta (22) and Yaiza (17).