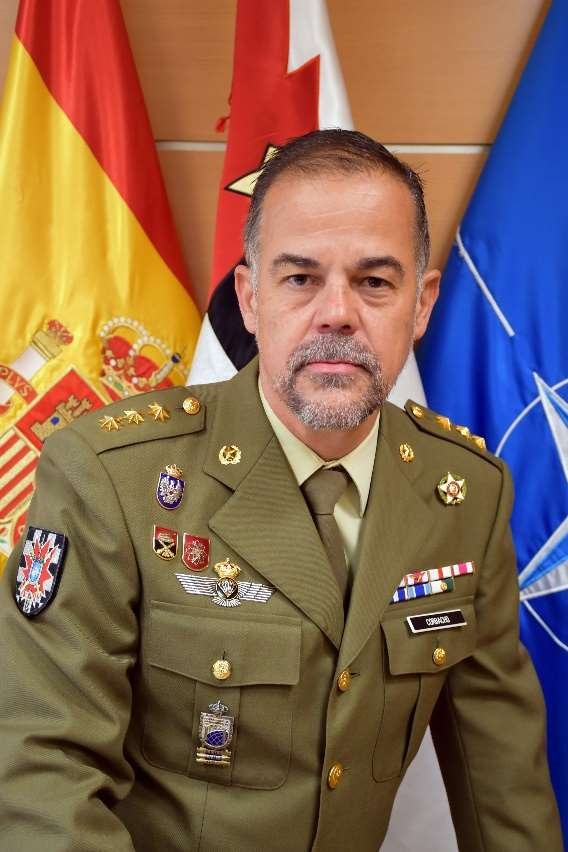 Colonel Javier Corbacho Margallo
C-IED CoE Director

Col Javier Corbacho Margallo was born in Ceuta (ESP) on November 7th, 1968. He joined the ESP General Military Academy, Zaragoza, in 1987 and in July 1992 he received his commission as Artillery Officer being promoted to First Lieutenant. His military education includes Paratroopers Units Command Course, Computer Science Officers Course, Inter-Services Operations Course, Armed Forces General Staff Officer Course, National Administration Laws Course, Peacekeeping Missions Observer Course and Operational Planning Process Course.
His ESP Armed Forces education has been complemented also with several International courses: Argentinian Army General Staff Course, NATO INFOOPS Planner Course, NATO Conventional Targeting Course, European Security and Defense Policy Course and NATO C-IED Staff Officer Awarennes Course.
In his career as junior officer, 1st Lieutenant and Captain, he was posted in different Air Defense and Field Artillery Units, as well as Officer´s teacher in the ESP Army Artillery School, Segovia. After being promoted to Major, he got his graduation as ESP Armed Forces General Staff Officer in 2005, serving later as Major and Lieutenant Colonel in the ESP Army HQ and in the ESP Armed Forces Joint HQ, and had also some tours of duty on international environment.
His international experience comprises two deployments in missions in the Balkans, a bilateral students Exchange with the Argentinian Army General Staff Course in Buenos Aires, one tour of duty in the 1st German/Netherlands Corps (Münster-DEU) and another tour in the NATO Supreme Headquarters Allied Powers Europe - SHAPE (Mons-BEL). This international experience was also acknowledged in two tours of duty in the C-IED COE: as C-IED COE Executive Officer and a previous one as Attack the Networks (AtN) Branch Chief.
He has been awarded with one First Class Army White Ribbon medal, First, Second and Third San Hermenegildo Meritory Service medals, Argentinian Fraternity Military medal, NATO Kosovo Forces Mission medal and United Nations Interim Mission in Kosovo medal.
In relation with C-IED is worth to mention his commanding role in C-IED COE AtN Branch (2015-2017), his tour of duty in the 1st GER/NLD Corps (2010-2013) serving in the INFOOPS/Targeting Branch, his three NATO Courses on INFOOPS, Targeting, and C-IED and his tour of duty as Executive Officer in the C-IED COE, since August 2020 till his nomination as COE Director.
ESP CHOD selected Col Corbacho as C-IED COE Director, assuming this role since 21st March 2022. After this nomination, he has been promoted to Full Colonel rank in April 2022.
Col Corbacho is married and has one daughter and three sons.