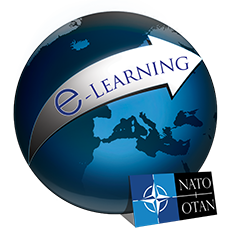 Advanced Distributed Learning (ADL) – The CIED COE offers an interactive, outcomes-focused approach to education, training, and performance-aiding that blends standards-based Distributed Learning. Within NATO, this means of delivery infers that the instruction uses electronic and/or information technologies combined with methods of instruction which do not require the student to be present at a specific site and as a result the learning occurs at a distance for the whole course or part of it.
The CIED COE has four courses hosted at the ACT Platform for ADL/e-learning.
Open for any audience willing to get a basic approach to the IED threat and concept.
ADL 207 C-IED Course CSOC
ADL 208 Weapons Intelligence Team (WIT) Prerequisite Course
ADL 212 ATNOC Course
Reserved for students attending the related courses at the CIED COE compound in order to get a first approach to the course goals, allowing an in deep practical part during the course present stage.